To help you on your wellness journey, sign up for your weekly wellness tip and receive a free healthy recipe as a thank you!

email:

powered by EZezine

home
tips archive
about Vreni Gurd

think

breathe

drink

sleep

exercise

other
HLC Resources
Eat
eat resources
eat websites
Whole foods equal complete nutrition
How to avoid trans-fats
Fat: the misunderstood nutrient
Vegetable oils - Friend or Foe?
Essential fats: Omega 3 to Omega 6 ratio
Customized Nutrition
Drink your food!
back to top
Food, our raw material.
What is organic food?
Organic vs. Conventional Meat, Poultry, Dairy and Eggs
GMO - Crossing the Species Barrier
High Cholesterol Does Not Cause Heart Disease
Sugar - The Disease Generator
Artificial Sweeteners
back to top
Blood-Sugar Regulation
The Soy Controversy
Maintain bone mass by preparing grains, nuts and seeds properly
Food sensitivities, digestive problems and joint pain
It's not what you eat, but what you digest that counts
Eat local and save the world
Food-Guide fallacy
back to top
Microwave ovens: convenience vs. health and nutrition
Processed Food
Salt
Choosing Quality Dairy
Fats - the Good, the Bad and the Ugly
Deceptive food labeling
Nutrient-dense foods
Another "Healthy Heart Guide" that got it wrong
Pasteurized almonds labeled as raw
Eggs are healthy and diet sodas are not
Artificial and natural flavours
Pasteurized almond update
High Fructose Corn Syrup (Glucose-Fructose)
back to top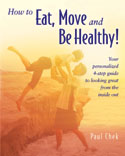 How to Eat, Move, and Be Healthy By Paul Chek
This is a comprehensive yet easy to read book on holistic health which you can use to personalize your own health plan. Learn the impact of your food choices on your wellbeing, how best to exercise depending on the state of your current health, how stress effects your health, how the time you get to bed impacts your hormones and your health, as well as how to tell if your digestive system is healthy. Top Pick!


You Are What You Eat CD Version By Paul Chek
In this informal discussion, Paul Chek talks about the importance of making good food choices, and issues to consider, such as organic vs. commercially raised foods, cooked vs. raw, genetically modified foods, irradiation, processed foods, packaging, pros and cons of grains, fats and oils, alcohol, dairy, animal products, eggs and seafood, sugar, salt, water, microwave ovens and much more. Top Pick!